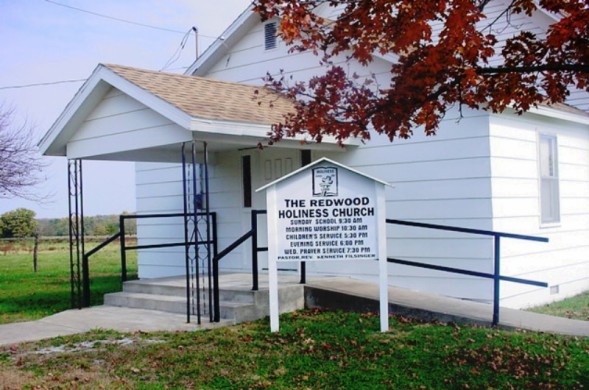 The Redwood Holiness Church and the Davidson family have a shared history, ordained by God that began before there was even a building. Luther Albert Davidson and his family were one of the founding families of the church.
According to "The History of the Bible Holiness Church" by CL Douglas and RS Taylor, the Redwood "work" is credited to
"…the evangelistic effort of Brother Douglas Bagby, who was saved in a revival at Hallowell, KS and later moved to Reeds, Missouri."
Reverend Stephen Douglas Bagby was born in 1860 in Illinois and died in Reeds, Missouri in 1937. The book quoted Hugh Willoughby, from the "Flaming Sword", February 15, 1948:
"Bro. S.D. Bagby brought the Gospel-light of Holiness into southeast [southwest] Missouri more than 25 years ago. The Gospel-light has spread, having been presented by a number of ministers in some 32 different localities—in churches, school houses, brush arbors and tent meetings. There were 30 conversions in Bro. Bagby's revival in Reeds."
From those early revivals, a group began meeting in the Redwood School. They continued there for 13 years. During that time there was some opposition to the group holding services at the school, the subject was brought before a school board meeting by some members of the community who were adamantly opposed and a vote was held. The outcome was 33-32 in favor of letting the meetings continue.
The families included in that early holiness group were,
"Davidson, Dodson, Crain, Burkey, Stailey, Armstrong, Willoughby, Lowe, Motley, Spencer, Houck, Shimp and Bass."
According to early minutes, a business meeting was held November 28, 1925 and a committee was formed to oversee building a permanent home for their worship services. Officers were chosen with Hugh Willoughby as chairman, Olive Willoughby as Secretary/Treasurer and trustees were A.R. Motley, Hugh Willoughby and L.A. Davidson.
By January 1926 they agreed on a selected plan for a 1500 sq.ft building on 1/2 acre of land donated by Henry Hirshey. George Motley donated logs from his land and Len Houck sawed the logs at his saw mill. Art Spencer and Ed Cale were hired as carpenters and men from the community donated their labor (41 names were listed as donating their labor). Charley Garber was hired to build the pulpit, which is still in service today and the seats came from Mt. Vernon German Lutheran Church, costing $8.00 each, and are also still being used.
Hugh Willoughby served as the first pastor and in 1951 a building was moved in east of the church for a parsonage and a well was drilled.
Former pastors of Redwood, included the following and I knew most of them, some very well:
Oliver Allen, Hugh Willoughby, Florence Martin, Paul Smith, C.C. Hamm, Mattie Chance, Wayne Rogers, Warren Gaddy, Don Hazelwood, Lester Sharples, Forrest Robinson, Paul Chrisenberry, Tom Wade, Lyle Bass and Kenneth Filsinger.
My grandfather, Luther Davidson and his family were included in those who donated their labor.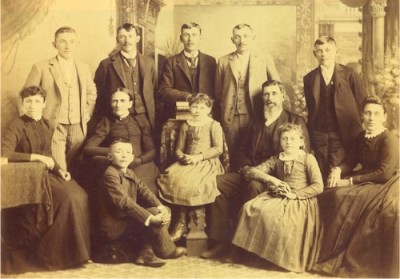 James Madison Davidson:
The Davidsons were Northern Methodists. My great- grandfather, James Madison Davidson came to the Sarcoxie area from Illinois in the late 1800s. He was quite successful—farming and raising cattle, building houses and was known and respected in the community. He was a landowner, a map from 1895 reflects 240 acres. My uncle told me he grew 100 acres of strawberries on that farm. He belonged to a fruit-growers association and also served as president of that organization for at least two years. He and his family were members of the Methodist Episcopalian church, as many in that area were.
He was helping his son move a barn in August 1911 when he drove a rusty nail through his foot and died from tetanus a week later. He had sold part of his farm and had built a home in Sarcoxie which he was living in at the time of his death. There was no cure for tetanus and it was a horrible death. I never understood the fear of God the Davidsons had; I knew no other family like them, but God has shown me that what happened to my great-grandfather had a great effect on Luther and all his family. James Davidson had lived with them for a time after his wife's death in 1909 (according to records) and that would have given the children an opportunity to become closer to him. God in his great mercy dealt with my great-grandfather's heart that he would be saved and spend eternity in heaven and in his great trial, his offsprings' hearts were also being prepared to turn to the Lord.
My Aunt Neva Dodson, Luther's oldest daughter, wasn't quite sixteen when her grandfather died. I knew Aunt Neva well, she was a beautiful woman and commanded great respect when she spoke. Sometime in the 1900s she went to a revival meeting and was saved. I've personally heard her share this and my Dad also told me this story several times. That experience had an effect on all her family—both parents and siblings.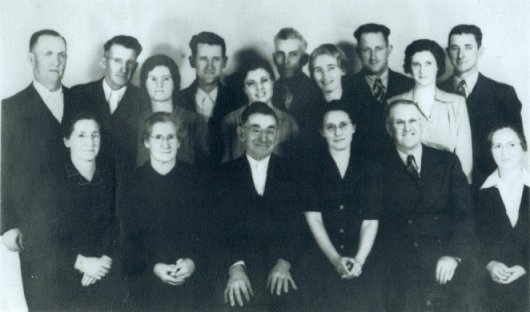 Luther Albert Davidson:
My grandfather Luther Davidson was a dirt contractor, building roads, dams, straightening creek channels, etc. My dad had just completed his freshman year of high school in 1922 and my grandfather and all his children and spouses moved to the Rolla, Missouri area to work on a section of what became Highway 66. While there, he decided he could no longer continue doing business as usual, and told his family and crew that when they finished the section of road they were on they were packing up and heading home. At that time, construction was done with horse-drawn equipment and he owned fifty draft horses. They returned to the Sarcoxie area where Granddad continued to work locally.
The Davidson's have a family connection to S.D. Bagby by marriage. My great-grandmother, Margaret (Whitaker) Long-Rentfro's brother, William W. Whitaker married Martha Bagby, a sister of the evangelist and they lived near Reeds, Missouri. Sarcoxie is only about six miles from Reeds. We have a written record that my Aunt Neva visited John Whitaker's home (another uncle) when she was 12, which was also near Reeds.
I grew up attending Redwood Church and I listened to others tell about my grandfather Luther Davidson being instrumental in building and establishing it. My cousin, Wayne Davidson told me he remembered riding on the wagon taking the logs to the saw mill, he was about three at the time.
I was born in a house on a forty-acre farm, that joined James Madison Davidson's 240 acres on the northwest. That house is still standing. I heard a number of holiness preachers/evangelists when they came to Redwood, but there were two that seemed different, Levi Burkhart and Elliott Hodge.
Levi Burkhart:
Levi Burkhart had a very methodical delivery with a lot of scriptures and he spoke at length about the creation and the stars in heaven and the heavenlies and he ministered that to my heart. He opened every sermon with, "I need the prayers of all God's people." Paul Smith who served as pastor of Redwood and was a friend and neighbor of our family said Burkhart spent time at his house and he always had his bible with him, usually opened on his lap and there were many verses underlined; that made an impression on me.
Neva Dodson wrote of Levi Burkhart:
"We were blest of God by being permitted to have a man with deep spiritual life and strong character as our leader for so many years. Bro. Burkhart assumed the General Superintendent position when his brother-in-law, B.W. Young passed away in 1920…Under God he piloted us through turbulent waters with love and patience…The devotional life of this man of God was an exemplary one. Few people reach the beauty and richness of the prayer life that he knew…God was gracious in endowing His servant with an unusual memory and he was faithful in cultivating an interest in his Bible. He trained his mind to retain God's Holy Writ, and deemed it more important for the spiritual man than the natural food was for the physical…One person remembered "He would go to the woods to pray and as we listened we were put under conviction. He was so saturated with God that I could hardly walk across the room in his presence."
Elliott Hodge:
I heard Elliot Hodge speak two or three times and I remembered he was missing one arm. Just a few years ago, I learned of his written testimony, "The Sanctification of Elliot Hodge" and in it he tells of an accident with a gun and subsequent hospitalization. He was not expected to live, people were called in to pray and about fifteen people, including my Aunt Neva were allowed into his hospital room; they layed hands on him and prayed. Hodge began to get better, though the doctors still wanted to give him a blood transfusion. Granddad and my Uncle Floyd (Davidson) came a few days later and one of the two gave blood for Hodge's transfusion. Hodge said during the transfusion, "Brother Davidson, this makes us blood relation."
There was a move of God in the Luther Davidson house in the early twenties when my Aunt Neva was saved. That move of God had begun in Kansas with Benjamin Young, Levi Burkhart, Elliott Hodge, Nellie Johnson and others. God soon brought the holiness movement from Kansas to southwest Missouri.
The "History of the Bible Holiness Church" quotes W.W. Sweet, historian:
"In the decades after the Civil War there were many revivals in the South, and Midwest, gradually moving north. The Free Methodist Church had been expelled from the Methodist Conference for upholding Wesley's teachings. This very evangelistic church constantly expanded over the continent spreading the doctrine of scriptural holiness. This national movement, which was organized as a result of the revival of the preaching and experiencing of "entire sanctification" as taught by John Wesley, had moved westward. The holiness revival, though usually led by Methodist preachers, was not confined to any particular denomination, but was promoted by local holiness associations."
The Neosho Valley Holiness Association (Kansas) was formed about 1880 and was comprised of
"…members from existing churches, the majority being members of the Methodist church. They maintained their membership, attendance, and positions in their respective churches, but they banded together for mutual fellowship and worship, and for the promotion of' holiness";
apparently, little is known about the early Association or its members.
Benjamin Young:
Benjamin Young was elected the President of the Neosho Valley Holiness Association in 1895. The name was later changed to the Southeast Kansas Fire Baptized Holiness Association and it eventually became "The Bible Holiness Church." He remained president until his death in 1920.
His daughter, in her book, stated that her father was
"…a man full of ambition and looking forward to becoming one of great wealth."
He did just that, becoming quite successful as a famer, rancher and landowner. He married Elizabeth Burkhart, Levi's sister and they raised four children. He was a member of a little Methodist church in Angola, Kansas and the church was anticipating a revival. They voted to have the evangelist Reverend Rollins and the meetings commenced. Young was quite stirred up by the nightly messages and challenged the preacher, telling him they wanted Methodist doctrine and was ready to have the meeting closed down. Young's daughter quoted the reply of Rollins,
"Brother Young, if I can't preach a salvation that saves from sin, which I believe is Bible doctrine, I'll return to my home. God's word says: 'The wages of sin is death but the gift of God is eternal life through Jesus Christ our Lord…"
She describes her father being convicted and finding "…forgiveness at the foot of the cross." Benjamin Young's life was changed. He felt called to preach and whole heartedly joined the holiness movement. He was forty years of age.
Young also established a home for orphans, mortgaging his own farm to buy a farm of 210 acres with a large home and barn and several outbuildings. He asked my aunt and uncle, Claude and Neva Dodson to move to Independence, Kansas and farm the orphanage property. They arrived at the orphanage December 31, 1919, traveling by horse and wagon with their belongings. They remained there for three years before returning to Missouri. Benjamin Young was injured in a car accident that November, and died the following January, not living to see the opening of Door of Hope Orphanage.
Levi Burkhart became the president of the Association following the death of Benjamin Young.
Those people had faith, they didn't have the Holy Ghost, but they had faith; my grandfather had faith. When my mother was sick and they didn't think she would live, he would come to our house every day and pray for her. One day he told me and my three sisters a testimony about a lady who was sick and her children prayed to the Lord and said, "If you don't do something for our mother, we are going to have to take her to the cemetery." After Granddad told us that story, he had us kneel down together and pray for our mother. After that prayer, she began to get well.
Granddad was an easy-going man, jovial, yet sober. The people I grew up were like that, sober, sensible, hardworking and not showy. Growing up in Redwood, I watched and listened to this group of people that were taught what John Wesley taught. I've studied John Wesley's teachings and I know he taught good things, straight things, had a good intellect, he spoke the words as they were written though it was without the Holy Spirit. But about the time of Pearl Harbor and WWII, people moved into our community that weren't so sober. The church was small but during the warm months, we would have the windows open and there would be people outside all around the church, sitting on the fenders of their cars and such, listening, often up to 200 people. They were emotional and would begin shouting and that was new to me, new to our family and many of the people of Redwood but they let it go on. However, when it got to a certain fervor, my grandfather, who sat on the right-hand side of the church, would get up and walk across the platform three or four times singing acapella "On Christ the solid Rock I stand, all other ground is sinking sand…" and the place would quiet down. Luther died in 1946. He had just finished supper and had walked out on the porch and sat down and in a moment he was gone.
Lyle Davidson:
Luther's son and my dad, Lyle Davidson, had that same faith. Dad was just two years old when his grandfather died in 1911 from tetanus. His grandfather's death wouldn't have had the impact on him that it did on the older children, but Dad told me and my sisters that when he was seventeen or eighteen, he was quite sick and God took him down to the gates of hell three times and showed him hell. He took him down and brought him back up and He did that three times. He told me, "Doyle, I saw people in the flames that I knew," he said, "I wasn't just born again, I was converted." He had a fear of God that few people have. My dad ministered faith to me all my life, as did my grandfather. Dad told me often, I was going to have to preach the gospel. I didn't like hearing that, I wanted him to be still.
My mother told me one day that she had prayed and told God if he would give her a son, she would give him back to him. I didn't know that until I was about fifty years of age. She had kept that to herself, all those years. I was born in 1932 and according to what I've been told, I was born with a hole in my heart. The best doctors available told my parents when I was about six weeks, there wasn't anything more they could do for me. I was told that my mother, in her despair, threw me on the bed and said, "Take him Lord, he's yours," and with those words, she fulfilled her promise to the Lord. A neighbor of my parents told my dad that he might as well be prepared to find me dead in my crib some morning. Dad replied, "He won't die, he will live." God healed me and I have never had heart problems since.
When I was a young lad, I stood on the top of a tailing pile and looked out across the prairie and thought, "One day I'm leaving this place." When I was eighteen I asked my dad if I could stop going to Redwood; I told him I didn't think it was doing me any good. With the wisdom of God, Dad said, "Well if you don't think it's doing you any good, you ought not to go." I joined the Navy soon after I graduated from high school and served four years as a hospital corpsman, which included twenty-seven months as senior corpsman in Yokosuka, Japan at the Yokosuka Naval Hospital. After being discharged and returning to the states, I went to the School of Veterinary Medicine at the University of Missouri in Columbia, Missouri, graduated and established a successful veterinary practice, building my own hospital in McKinney, Texas, specializing in equine medicine. But God had visited me in 1958 just prior to entering veterinary school; I was overshadowed by his presence and I heard him say,
"I don't want you to be a veterinarian, I want you to be a minister of the gospel."
I knew fear that day like I had never known, but I could not believe it was God, and I went on to school and graduated.
In 1969, the Lord visited me again, and this time I knew if I didn't obey him, I would be destroyed. I sold my hospital and practice in January 1970, at the Lord's direction and he soon began divesting me of all my holdings. After spending time in Missouri, working on my farm, I went to Tennessee where I worked on the horse show circuit for a few months. I was baptized in the Holy Ghost in July and baptized in water by immersion in September. Following my baptism in water, that evening I asked the Lord, "Father, what do I do?" and I heard him say, "Return to the land of your fathers." I did, we left the next day.
How important those words were to me that night. To this very day, you couldn't take Sarcoxie out of my heart.
Out of the Redwood Holiness Church, out of the holiness people, God raised up a prophet to the nations.
God bless,
Doyle Davidson
Servant and apostle of the Lord Jesus Christ
Sources: Doyle Davidson/Water of Life Ministries; The History of the Bible Holiness Church (2011) by Cecelia Luelf Douglas and Ruth Smith Taylor; Acres for the Pearl by Grace Young Nash
Posting Index