Doyle's family, the Davidsons, were Northern Methodists. His Great- Grandfather, James Madison Davidson, was a prosperous farmer, growing one hundred acres of strawberries. He was also a builder and Doyle has seen some of the homes he built. As his sons grew up, they too were successful in their endeavors, some also becoming carpenters. His Grandfather, Luther Albert Davidson, left the family business of farming and building and started his own, building dams and levees and county roads over much of Missouri. He was granted a contract to do the dirt work on the highway being built near Rolla, Missouri which was eventually named U.S.66. He, his four sons, three son-in-laws and their families, plus the additional men he employed transferred to the Rolla area, planning to remain there until the job was completed. At that time, road building was done with horse drawn equipment and he owned and maintained fifty draft horses.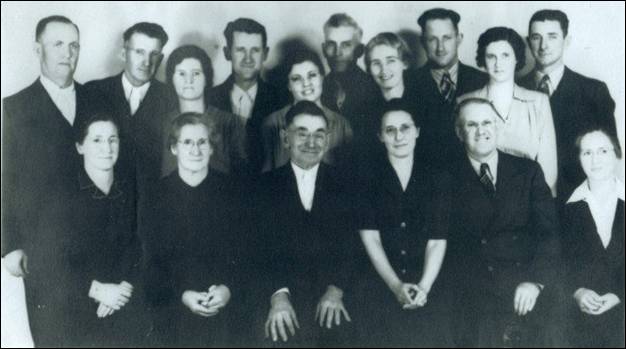 Luther A. Davidson Family
The entire family was born again in 1924 while they were at Rolla, and it changed the course of their lives. Luther said he could no longer continue in the business as he had, and though Doyle never heard him say it, he believes his grandfather's heart would no longer allow him to be a part of the practices that were required to obtain government contracts. So they packed up their equipment, hitched up their teams and headed back to Jasper County and what a sight that must have been--that wagon train coming across the Missouri prairie.
Luther returned to building dams and levees, straightening creek channels and whatever jobs presented themselves. He was never afraid to tackle anything and he always had enough work to keep everyone employed. They remained prosperous and were well respected in the community and surrounding area.
After they returned to Jasper County, the family became involved with a group from central Kansas that followed the teachings of John Wesley. They were led by school teachers, not preachers who had been to seminary training. Luther and his family, along with others, built Redwood Holiness Church. It was the second church of its kind, built in the United States.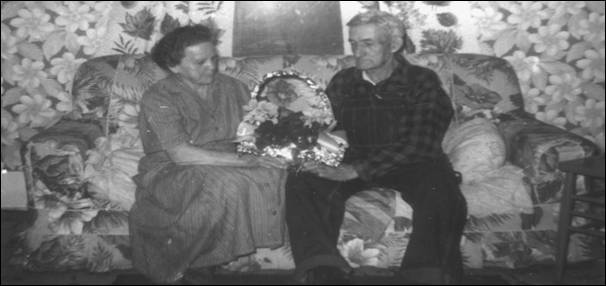 Frank and Minnie Miller
Doyle's mother's family, the Millers were basically Baptist, though Doyle doesn't recall that his grandparents, Frank and Minnie attended church of any kind. His great-grandfather, Newell Miller enlisted in the Michigan 2 nd Cavalry Regiment during the Civil War as a private and served four years. He mustered out as a Full Sergeant. He and his wife, Sara Louisa Paddock had seven children, five were born in Michigan and the two youngest were born after they moved to Missouri in 1881.
Doyle's Grandmother, Minnie (Virkler) Miller was German, and a hard worker. Her family came to America from Alsace, Lorraine, France, about 1834, settling in Lewis County, New York. They were originally Amish Mennonites and her great-grandfathers on both sides of her family were Amish Mennonite ministers. The families left France because their sons were going to be required to serve in the military in a combatant capacity and their doctrine didn't allow that.
The first Apostolic Christian Church in America was organized by Doyle's grandmother's families. They believed water baptism should be by immersion and therefore, in good conscience, they left the Mennonite church. They became an established Apostolic Christian Church in 1852 by Elder Benedict Wyeneth, who was sent from Switzerland by Samuel Frohlich, at the request of the Virkler family. The church later became known as the Evangelical Baptist Church. Before returning to Europe, Wyeneth ordained Joseph Virkler as minister of the congregation.
Doyle grew up spending time with his grandparents on both sides of the family. As a young boy he noticed things he didn't understand. There seemed to be much physical affliction in the Miller family. He realizes now that the family was cursed
Frank Miller was a Constable in Diamond, Missouri and had to leave that work because his health was failing. They bought forty acres while he was still in his 30s and raised strawberries and milked 10 dairy cows. He was a small strawberry farmer, but when he took his berries to market, everyone wanted to buy them. Doyle went with him to market on more than one occasion and buyers would start bidding when they saw him drive in, and often he had them sold before he ever parked. By the time he was forty, he had lost his vision in his right eye and he suffered from arthritis in his legs and had to use a cane to walk. He and Minnie worked hard to pay their farm off and once they did, they didn't have to work quite as hard to make ends meet.
Doyle has said that his Granddad didn't care anything about God. He loved baseball and politics. He has shared said on many occasions," Granddad hated socialism and could spot it a mile away." Frank was a tremendous pitcher and played sandlot baseball. If he had been single, he could have gone to the major leagues. The man that caught for him was Mark Hall, who went on to catch for the Detroit Tigers.
He went to heaven in 1964, after years of being in and out of hospitals. Frank's siblings also suffered physical afflictions. His brother Claude died fairly young though Doyle doesn't know what he died of. His sister Maude died of breast cancer. James became a Baptist preacher, later Disciples of Christ. James' son Paul Miller became a world renowned journalist. Oklahoma State University named a building after him, The Paul Miller School of Journalism and he lived into his 80s. His second to the youngest sister died in infancy. His youngest sister Ethel was a beautiful woman but by the time she was fifty, she was so crippled with arthritis that she ended up in a wheelchair and remained there the rest of her life. Those who were close to Ethel shared with Doyle that she was a bitter woman. She had two children; Katherine her daughter had a brilliant mind and was a school teacher, like her mother. Her son, Carroll served in WWII under General Patton, and contracted polio while he was in Europe and returned home, crippled from the disease.
Doyle said his mother seemed to always be sick. When she was sixteen her appendices ruptured. The doctors did all they could with the medicine they had in those days and said, "We don't know if she'll live or not". She
did
live because she was to be Doyle's mother and of course his sisters' mother also. When Doyle was five years old, she became very ill and they thought she was going to die. They didn't know what was wrong, but she couldn't get her breath. She was sick for weeks and Luther Davidson came to their house for two weeks, to pray for her. One day he came over and gathered Doyle and his sisters together, sat them down and told them about a woman that lived down south and was sick, and her family thought she was going to die. He told them that one day her children got together by her bed and prayed and said, "God, if you don't do something for our mother, we're going to have to take her to the cemetery." Their Grandfather told them, "God healed those kids' mother." Doyle, his sisters and Grandfather prayed for their mother and he said, I don't remember my prayer, but Mother began to get better immediately."
Myrtle, his mother's sister, was valedictorian of her class. He remembers her as a bitter, unhappy woman that seemed to constantly rail on her husband with her tongue.
Doyle's mother ended up in a nursing home before she went to heaven and Doyle has shared often how God sent him to pray for her and while praying for her, cast three devils out of her by the Spirit of God. His Dad went to heaven, sitting in his chair at home with his sister sitting next to him. Doyle had just talked with him that evening on the phone. His Grandfather, Luther, went out to the porch after dinner and sat in his rocking chair and was gone, just like that.
Doyle has considered often, how different the two families were. He has said that his Grandfather, Luther Davidson was certainly the most sober, steady person he knew. He was light hearted and fun, but he ran a tight ship. He was a man of compassion but he had steel in his spine; people didn't take advantage of him. He was successful and prosperous in all he set his hand to do and Doyle's Dad was the same kind of man. All the Davidsons had an elementary education, some even graduated high school, but none attended college. They were a strong, robust bunch and there was very little sickness amongst them.
The Millers that Doyle knew suffered many physical afflictions and their outlook and approach to life was different than that of the Davidsons. He remembers them as very intellectual and there was pride in their intellect.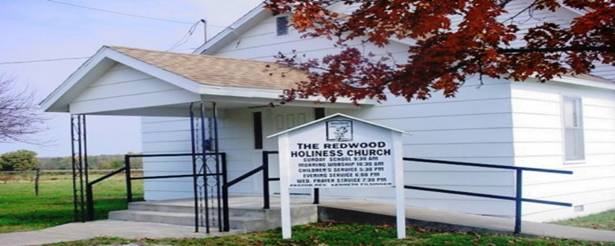 Redwood Holiness Church
As Doyle has considered his families he has been reminded of those years growing up in the Redwood Church. He listened to the conversations of the adults as they discussed doctrine, and they could not agree on the correct form of baptism: sprinkling or immersion, so they came to a place they decided they would do neither; they wouldn't baptize at all. They also struggled with 1Cor.11:27:
"Wherefore whosoever shall eat this bread, and drink this cup of the Lord, unworthily, shall be guilty of the body and blood of the Lord."
They weren't sure of the meaning of the word, unworthily, so again they concluded, they just wouldn't have a Communion service.
Doyle recalls very little sickness in any of the congregation of that church and God has shown him the mercy He had on Doyle's family and the others, for it goes on to say in 1Cor.11:
28 "But let a man examine himself, and so let him eat of that bread, and drink of that cup.
29 "For he that eateth and drinketh unworthily, eateth and drinketh damnation to himself, not discerning the Lord's body.
30 "For this cause many are weak and sickly among you, and many sleep."
God has revealed to Doyle, that one of the reasons there was no sickness and death among them was because God kept them from being a partaker of scriptures that they didn't have understanding of, nor the faith to participate in.
The Millers' ancestors were basically English and they left England for religious freedom, to serve God as they understood the scriptures. One of the prominent founders of Rhode Island, Samuel Gorton is an ancestor of the Millers, and he along with others, ascribed to " the first principles of the oracles of God," found in Hebrews 6:
1 "Therefore leaving the principles of the doctrine of Christ, let us go on unto perfection; not laying again the foundation of repentance from dead works, and of faith toward God,
2 Of the doctrine of baptisms, and of laying on of hands, and of resurrection of the dead, and of eternal judgment."
The Miller ancestors fought in nearly every war from the time this nation was founded, from the King Phillips War to World War II, and Doyle served in the Korean War.
The Davidsons were Scots, who settled in Ulster-Ireland and left there to come to America to escape the persecution of the Anglican Church. They believed that Jesus Christ was the only King with authority to be head of the Church and they refused to submit to the Church of England.
[Note: Further research has revealed we cannot prove, with documentation, Doyle's lineage to Ulster-Ireland, although the Davdison name is found frequently in the Scottish Covenanters Index]
Doyle loved all his grandparents and has stood before the world and publicly given thanks to God for both his families. Two very different families, whose ancestors God sent to America to found this nation, were joined in Missouri, and from those families God has raised up an apostle and prophet to the Nations, to preach the Gospel of the Lord Jesus to the world and to lead God's people by His Spirit.
Contributed by Kathryn Currier
"A Nation Bringing Forth Fruit" Page
Posting Index